The main consideration when choosing your gas appliance will be the compatibility with your existing flue or chimney. Whether your home has a flue, chimney or none at all, it is still possible to benefit from installing a beautiful gas fire, electric fire, or stove. A good working flue relies on the natural circulation of air through the room and up your chimney to expel the combustion gases from your fire. There are three common types found in UK homes today. These are: Pre-Cast Flues, Pre-Fabricated Flue Systems and a Conventional Chimney. The simplest and quickest way of determining which you have is to look up to the roof of your building.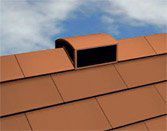 Many modern houses built after 1960 are fitted with a pre-cast chimney system identifiable by a ridge vent or gas terminal through the roof slope. A pre-cast flue is built from gas flue blocks which are built into and bonded with the inner leaf block work of an external wall, is allows the fires to be installed within a partition or party wall or external wall. Due to the nature and type of construction pre-cast chimneys tend to be shallow in depth. 
Superior Fires has a wide range of Pre-Cast Inset Gas Fires for you to choose from. We offer a range of colours and finishes ranging from brass, chrome, black, brushed stainless steel to polished cast iron.
Class 2 - Pre-Fabricated Flue System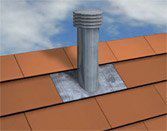 A pre-fabricated flue is generally found in older houses where the existing chimney has been lined due to the existing chimney no longer being of sound integrity, or a newer house with a purpose built steel flue built-in. They can be identified by a steel metal interlocking flue pipe (single or twin wall flue) connected to a flue box at the fireplace opening and a steel gas terminal on your roof. A flue pipe with a minimum internal diameter of 7" (180mm) or more is recognised as a Class 1 flue whereas a flue pipe generally around 5" (127mm) internal diameter is recognised as a Class 2 flue. Generally speaking the flue box of a pre-fabricated Class 1 and Class 2 flue have a pretty standard opening width 375-437mm and height 500-565mm however, the depth can vary between 196 - 330mm so be sure to check this against the fire.
Our Class 2 Inset Gas Fires are designed for style, efficiency and warmth. With the number of different options available we believe we have the perfect gas fire to suit your modern or traditional interior.
Class 1 - Conventional Chimney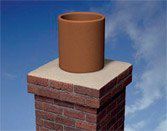 A Class 1 chimney is commonplace in houses built before 1960 and is easily recognisable by a brick chimney stack or flue rising above the roof slope. A Class 1 chimney has an internal diameter of 7" (180mm) or greater. Previously the fireplace would have been used as a real solid fuel fire, especially in the case of older Victorian properties, and this is sometimes identifiable by a concrete chair brick at the back of the fire opening. Due to the age particular attention is required to ensure the existing chimney is structurally sound before any fireplace installation procedure. Class 1 chimneys tend to have a good depth and therefore generally accomodate all our conventional chimney gas fires including our Whatley and Walther range of full depth fires. However, it is worth seeking professional advice as the concrete chairbrick may have to be removed in order to fit our deepest Walther full depth convector gas fire as this firebox has a square footprint unlike the Walther which has a tapered firebox footprint.  
From browsing our website you will see that we have a number of Class 1 Compatible Gas Fires in the Superior Fires range.
Our exciting range of flueless gas fires and stoves are the perfect flat wall, no chimney solution to instant warmth. Our innovative technology provides a flexible design for your house or apartment, allowing you to install a fire not only in the living room, but also dining room, office and study, and kitchen.
Our Wall Mounted Flueless Gas Fires are 100% efficient and simply fit to the wall with just 4 screws.
If you are looking for a inset gas fire to complement your new or existing fireplace then our Westbury range of Flueless Inset Gas Fires are perfect for you.  
Alternatively we have an innovative range of Flueless Gas Stoves to choose from with blistering heat output and easy front slide control
No Chimney - Electric Fires
If you don't have a chimney or flue and want to benefit from a focal point in your living room then you may wish to consider an electric fire or stove. Our range of electric fires simply plug into the mains electric supply and can be varied between flame effect only, and low to high heat. We provide a range of LED and LCD technology to choose from with lots of different colour and material finishes so we are sure that we have a design to suit everyone's budget and taste. 
We offer an exciting range of modern Wall Mounted Electric Fires that are designed for contemporary living. These types of fires simply hang on the wall and do not consume a lot of space which is ideal for more compact rooms. Alternatively, our Inset Electric Fires are designed to fit a standard fireplace opening. 
We also have a range of Electric Stoves which are available in a number of different colours.
All our electric fires have a flame effect only setting which is ideal for those cool summer evenings when you want to relax in front of a flickering flame but don't need the heat.