When it comes to making your fireplace look its best, you may already have thought about the mantelpiece, but not everyone is so confident about choosing the design of fireplace surrounds. Some rooms have a wall mounted gas or electric fire, a wood-burning stove, or an open fireplace that looks a bit bare because it lacks a fireplace surround. It leaves it looking as if something is missing. Fireplace surrounds help to build the fire into the room visually, framing the fire in a way that suits your unique living space.
Perhaps your fire has an outdated surround that you're looking to replace or renovate. Or maybe you're starting from scratch. Either way, giving some attention to your fireplace surround is likely to be a bit step in rejuvenating your home and bringing some extra heart and soul to the ambience of your fireplace.
So what are the options? You could have a complete renovation and change the look entirely. But for now, let's keep it simple. How about a decent clean and then a new coat of paint? Whether you have a plain brick surround or a tiled surface, a makeover like this is simple to do yourself without going the whole way and getting a builder to renovate your entire fireplace surround. Here's how to go about it.
Start by brushing over the fireplace surround to clean away any cobwebs and dust. Then take a solution that's equal parts water and vinegar, and spray it all over the area. The acid from the vinegar in that solution will cut through any grease, preparing the surface for the next step. With a clean rag, wipe away the build-up and surface debris, and dry everything. This preparation is an important step, so don't rush it. When the whole area is clean and dry, take some masking tape and apply it to any surfaces you want to protect from the paint. That will make painting the area a lot less stressful.
A primer that's oil-based and that will resist stains is a great way to ensure the paint job continues to look its best, and any brickwork underneath is sealed. Prime the wall carefully, having checked all the instructions on application and drying times for the primer.
Finally, paint your fireplace surround with an indoor latex paint that is designed for fireplaces, so that it can withstand the heat. The finish can be matte or gloss, and you might find it easiest to use a roller to apply it. You'll probably need to give it a couple of coats to get the best look, checking for any spots you might have missed.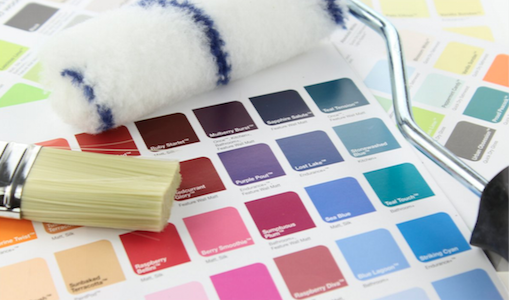 Follow these steps carefully, and you'll have a new look to your fire and your whole room. Fireplace surrounds make a strong impact, so make sure you get it right. With just a few hours work, you'll have transformed the look and feel of your whole fireplace. Dress the mantel with some new flowers or objects of your choice and everyone will notice.