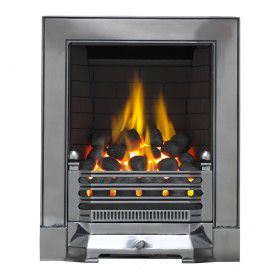 There are many reasons to invest in a gas fire. If you've had one of those winters where you couldn't quite warm up properly, it could be time for a re-evaluation of how you heat up your home. Not only are they an effective source of heat, but they also add a modern twist to any older rooms that look like they need a lift, just in time for the inevitable spring clean that is just around the corner. We've listed 7 of our favourite reasons to invest in a gas fire as soon as you can, so you will always be ready for colder conditions, whenever it decides to strike.
The immediacy factor
Gas fireplaces are available with a range of settings, including an option for high heat output ratings. This means that the room will warm up much quicker than the heating system or an open log fire, without any of the added effort of changing the boiler timing settings or facing the elements on your way to get logs. This will be particularly appreciated on those cold, dark mornings where it is simply too chilly to function, or at the end of a long day at work when all you need is a cosy living room and an unwatched crime series on Netflix.
Instantaneous
Following on from the first point, this instant nature of turning your gas fire on and off means you don't have to plan ahead. Many open fires require a vast amount of effort to make in the first place, meaning you have to commit your whole afternoon to sitting in front of the fire to get the most of it. Find your spontaneous side and agree to that last-minute Sunday night catch up with friends without the worry of putting out the fire.
Cost effective
Gas fires are actually a lot more financially viable than other means of supplying warmth, with no hefty log bills or forking out for a chimney sweep on the horizon anytime soon. A gas fire even adds to the overall resale value of your home, with average numbers returning 75% or more of your initial investment.
Ambience
It's no secret that a romantic, cosy and pleasant atmosphere is often created through the means of lighting and warmth. Gas fires provide both and then some, as the ambience created by the flickering flames is second to none. Say goodbye to cold, dark winter evenings with an even colder atmosphere and welcome the seductive setting provided by our gas fires.
Attractive
There's few things in the world that can be as practical as they are beautiful, but we think gas fires might just be one of them. You have the option to choose from a variety of different surrounds and styles, so you can pick the one that's right for your home interior. Whatever your living room themes, we're sure there'll be a gas fire that will compliment the room!
Adaptability
You don't need to have any kind of pre-existing conditions in order to successfully host a gas fire in your home – they are exceedingly versatile and will fit just about anywhere! You may even desire a unit in your dining room or bedroom, wherever you see fit, there will be a gas fire that can be put there. They can even cover up any ugly bordered up fireplaces to make for the perfect finish to your home.
Air quality
Gas fires have direct vents for the incoming combustion of air and flue takes these unwanted gases straight outside of the home. This means you can enjoy all the advantages of a fire including warmth, light and increased atmosphere, without the overwhelming smell of smoke taking up your air space. This is particularly relevant for any households where one or more of the inhabitants suffer from asthma, as keeping the air quality as clear as possible will help prevent an attack.
All things considered, there is a plethora of reasons to invest in a gas fire as soon as possible. Here at Superior Fires, we've been working hard to ensure that the gas fires are of optimum quality, which are not only kinder to the environment but also maintain low running costs. We have an extensive range of flued fires, all of which incorporate the latest developments in gas fire technology, resulting in exceptional performance across the board. Come and check our fabulous range today and invest in the perfect, yet practical, addition to your home.