Most rooms have a specific function; the bedroom is for sleeping, the living room is for relaxing, the bathroom for bathing and so on. However, the kitchen is much more than that, rather than it being a simple space with a singular purpose, it is usually the heart of the home, and is used by everyone throughout the day. It is where we do the cooking, eating, washing, and it is also where we meet, spend time together and interact. It is probably the room we all use the most, so why is it usually the last place on the list when it comes to adding those extra comforting touches?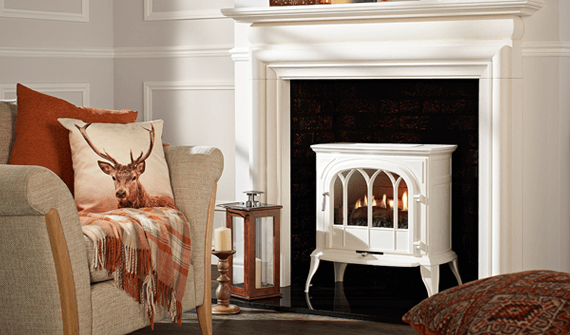 The kitchen always used to be the room with the cold floors and nowhere to sit, as it was seen as a place of work. However, times have changed since the original kitchen designs, and we all spend the majority of our time in this space. Kitchens have been done out with colourful tiles, slick breakfast bars and stools. However, what could make a little difference is some warmth.
Having a fireplace in any room can add the feeling of warmth, both visual and tangible, so why not place one in the kitchen? A fireplace can bring more of homely feeling back to your kitchen.
Modern gas and electric fireplaces can provide an attractive and practical addition to any kitchen. They are efficient and easy to use and can create a certain ambiance, as well as heat. As there are so many different styles to choose from, you will need to think about what is right for your kitchen.
One thing you should think about is the size of the fireplace compared to the room. Also, be careful that the heat output and flame display are in balance with your kitchen. Something oversized will produce too much heat and dominate the room visually.
Take a look at some of our inset electric fires which will fit in well with any kitchen. Once you have found your perfect fireplace, your kitchen will be one of your favourite spaces to spend time in.