With Christmas just around the corner, it's finally time to start getting excited about the festive season. One of our favourite things about this time of year is the beautiful decorations distributed throughout the house, from fairy lights and paper garlands to the classic fireplace centrepiece. If you're in search of a creative way to decorate your fireplace this season, we've got a few ideas that might be just what you're looking for.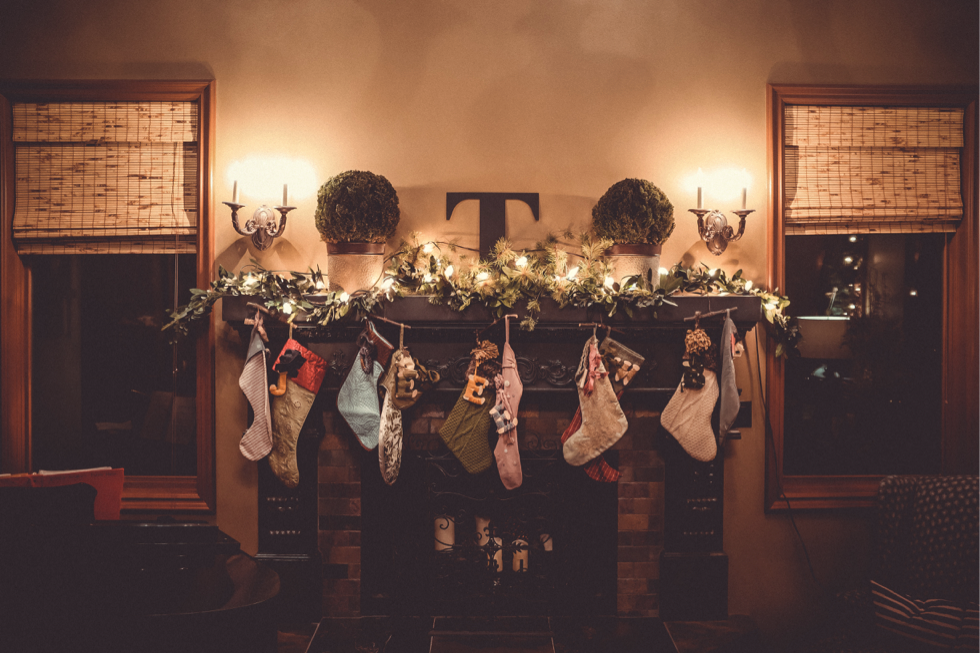 1. Au Natural
Wreaths and garlands made from pinecones and firs are a fantastic way to accessorise your fireplace. You can create these yourself in a day of festive crafts using glitter, real/fake flowers and ornaments; or you can head over to your local florist to pick one where all the hard work has been done for you. These are quite traditional decorations and create a very homely feel, as well as an incredible natural scent for the room! For extra warmth, intertwine a set of fairy lights into your wreaths or garlands!
2. Paper/Fabric Garlands
Paper or fabric garlands are simple and fun to make, especially with the children. It isn't recommended to place these above any open or wood burning fires for obvious reasons; however, they will be perfect when placed above our gas fires or any electric alternatives! You can take free reign of colours and designs with the garlands, opting for simple silvers, golds, or bright festive greens and reds.
3. Festive Florals
Florals look fantastic above a mantle at all times of the year, and Christmas is no exception. Head to your local florist to pick up a range of beautiful flowers in rich reds paired with deep greenery for a festive feel. You can either place these in one large vase, smaller vases or scatter them across the top.
4. Advent Mantle
This year we've seen a plethora of interesting advent calendars, but our favourite has to be the ones created around the mantle or fireplace; this is done simply by attaching small gift bags to a string, which can then be hung around the fire surround. Fill the bags with sweet treats, tiny gifts or whatever you fancy, and you'll have the excitement of heading to the fire each and every day to discover a new gift.
5. Photo/Card Strings
Have you a selection of festive photos of years past? Why not create a wonderful ambience in the room by displaying all the photos for your guests to see? By hanging a string or set of fairy lights, you can then use small craft pegs to place Christmas cards of festive photographs above. This adds a lovely personal element to the room and helps to create the 'hygge' element.
6. Candle Heaven
Candles can be a fantastic addition to a room, whether you opt for tiny tea lights or chunky pillar candles. Create a depth by contrasting larger, taller candles with smaller, shorter ones and fill the room with a natural source of light when they are lit. There is such a wide array of candleholders available these days, so you will be able to create a perfect scene with ease. Opt for festive flavours such as cinnamon, cranberry and vanilla to fill the room with sumptuous scents.
We'd love to see your photos of how you've chosen to decorate your fireplace this season, so please send them to us via our social media channels!