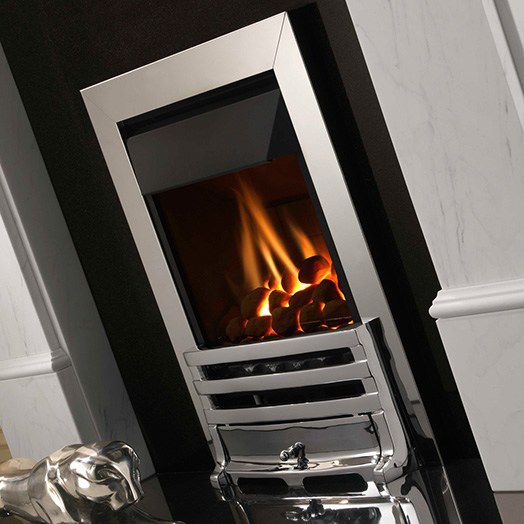 Gas fires were introduced in the late 1890s, with the first commercial model being widely credited to Willsons and Mathiesons. The first model was very simple, consisting of a basic gas burner heating a cast iron carcass that radiated heat from the room and these are typically free-standing. They became more popular than wood-burning fires due to their efficiency and cleanliness, as well as acting as a sort of signifier of wealth to visitors or guests. Wood burning fires were trumped in every way, as they produced a lot of smoke and ash and took ages to ignite in comparison to the speedy gas fire.
The price of gas fires was rather steep to begin with, as with most new inventions and this led to a vast amount of scepticism towards opting for gas fire as opposed to traditional wood burners. Overtime this has become more affordable and thus common in both commercial and domestic environments. At Superior Fires, we have worked hard to create a range of gas fires that cost less to run, as well as being kinder to the environment and more efficient. Our extensive range of flued fires incorporate the latest developments in gas fire technology for exceptional performance and reduced running costs.
By the 20th century, there was a vast range of gas fire-related products including cookers, water heaters and wash boilers to name a few. Designs soon became fireplace based, utilising the popular 'Milner fireback' that had appeared towards the end of the 19th century as an efficient chimney base for artisan's cottages. Ceramic radiant with quite spectacular designs began to project heat from the front of the fires into the rooms. By the 1920s, a well-established industry was thriving, turning out over a million gas fires a year.
Following this, wartime virtually halted any further advances until the 50s, where gas continued its onslaught on traditional coal fires, which at the time formed the UK's main source of heating. Flavel, based in Leamington Spa, introduced a timeless product in the 50s that can still be purchased today – the box radiant gas fire with a metal case or clad in wood. This innovation revolutionised the way people perceive gas fires and this played a large part in the sudden increase of sales. This faithful model lives on in over 2 million houses in the UK.
The biggest criticism to gas fires is the lack of aesthetic authenticity in comparison to the natural ambience created by natural flames. In reply, gas fires have evolved to provide highly realistic gas fire flames with stylish surrounds to suit a range of interior designs. The mock-flames adds an extra layer of atmosphere while intricately designed surrounds can become the focal point of the room.
Today, inset gas fires are available in a large variety of colours, styles and designs to suit every household. There are options to suit a range of periods including Victorian, Edwardian and Art Noveau. State of the art technology has improved the user friendliness of most models, with some offering fires which can be lit at the touch of a button, offering maximum convenience and comfort.