With the summer drawing ever closer to an end, we'll soon be waving goodbye to the long, light nights and warm(ish!) weather and hello to cold evenings curled in front of the telly. One of the best ways you can prepare yourself for winter is by making sure you have the ideal fireplace to keep you cosy, whether it be real, gas, electric or otherwise.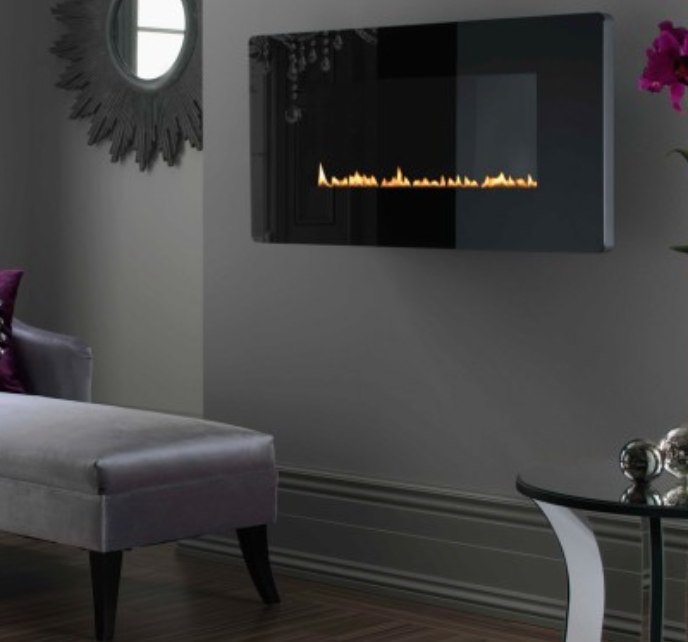 How do flueless gas fires work?
Flueless fires are an innovative and forward-thinking addition to gas fire technology and do not require your home to have a chimney or flue to operate, allowing more people to make the most of the benefits offered by gas fires. Instead, combustion gases pass through a catalytic converter system, which is then positioned on top of the fire itself, converting carbon monoxide into harmless carbon dioxide and water vapour. The catalytic converter is so effective; it can even help to clean air and neutralise airborne particles and odours.
How often do you need to change the catalytic converter?
Tests have helped to determine the life expectancy of catalytic converters and have proven that after around 16,957 hours, or just under 28 years, the catalytic converter is just as effective as when it is brand new, so not very often, if at all!
Are they safe?
The catalytic converter removes all the danger of carbon monoxide and fires also have additional safety features that help to guarantee air quality within the home. That said, it's important to remember that televisions and other electronic devices can't be installed above flueless gas fires, as much of the excess heat travels skyward.
How do you get rid of condensation?
Our flueless gas fires are designed to be used alongside an effective central heating system as opposed to instead of. This means that the rooms should be able to maintain an adequate temperature throughout the house at all times, so the background temperature will avoid any moisture condensing on cold surfaces such as single glaze windows.
What about ventilation?
Ventilation is vital to maintain the correct levels of oxygen within a room. Appliances that are installed within the UK need just 100cm² of additional purpose provided ventilation.
Is it green?
We all have a part to play when it comes to making our homes more eco-friendly, and believe it or not, investing in a flueless gas fire is a step in the right direction. According to research, if the 15 million flued gas fires were replaced by flueless gas fires, the UK would reduce its carbon dioxide emissions by over 7,649,400 tonnes every year. When you opt for a flueless gas fire, you are making a significant impact on reducing your carbon footprint, and thus improving the overall effects of global warming.
Are they expensive to run?
A flueless gas fire converts around 100% of the gas to heat, whereas open coal fires can convert as little as 10%. Running costs are therefore as little as 9 pence per hour when on the highest setting, which is approximately a third of the running cost of a conventional gas fire.
How do I know if my house is suitable for flueless gas fire?
Thanks to the flexible nature of this appliance, most houses will be suitable to host a flueless gas fire. You can arrange a home survey to ensure you are happy to proceed, and while an initial £30 fee will be required to cover the admin costs, this will be refunded to you if you go ahead with an installation. A gas-safe engineer will visit your home at a time that is convenient to you, providing experienced advice and unbias information about our products.
Am I eligible for a home survey and installation?
While we cover the majority of the UK, there are some postcodes we can't offer this service to. To avoid disappointment, please do not hesitate to contact the customer services team on 01202 588632 to check.
For a handy video discussing flueless gas fires in more detail, you can check out our collaboration with SMEG here.
We hope that's the majority of your gas fire concerns covered, but if you do have any other questions, please get in contact with the team today. With winter just around the corner, and long, dark nights fast-approaching, there's never been a better time to buy a flueless gas fire!