Any decent fireplace is going to make your home feel warm and welcoming, but if you team it with just the right surround for your interior decor, you'll really be making a statement that will impress your visitors and enhance family life for years to come. Whether your fireplace is destined for your main room, or a bedroom or dining room, there are all kinds of surround to choose between for your home.
Perhaps you live in an apartment and you haven't even considered a fireplace. Did you know, you don't actually have to have a chimney or a flue to have a really beautiful new fireplace installed. With gas, electric and solid fuel models available, you'll easily be able to find a model that suits your home. If your house has a flue or chimney, it's worth checking exactly what kind you have because it could affect which fireplace is available to you. But even if you have no flue or chimney, there are still a number of fireplaces you could choose. Let's have a look at some of the options.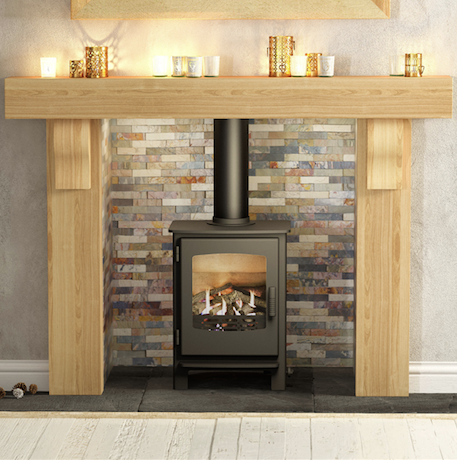 First, how about a gas fire. There are so many benefits to gas if that's available to you. It's cheaper than electric for running costs, you may not need a chimney, and as long as you have a gas supply to your property, you'll potentially have on-demand real flames that heat your room without delay. Hang a modern style gas fire on the wall, and you can have the look of a slick high-end fireplace that becomes the hub of family life. You could choose an inset gas fire, a gas fire with an existing chimney, an inset multiflue, or flueless if you want total fuel efficiency. If you really relish the idea of a gas fire that looks like a traditional open fire, then a full depth option is available for those with class 1 chimneys.
Electric fires are a great option if you like the idea of seeing the flames for ambience even without the heat at some times during the year. Unlike the gas fireplaces, the electric models don't need a Gas Safe registered engineer to instal, you can simply plug it in and turn it on. No chimney or flue is required either, and you can go for wall hung, inset with coal effect, or an electric stove for a truly traditional look that (unlike the real solid fuel burning stoves) have the added benefit of being portable.
Many people would say that in just the right cottage or country house, a solid fuel fire is pretty unbeatable. It's true that they take a bit more maintenance, and you would need to have some kind of chimney or flue, but this kind of fireplace is a no-brainer in an authentic setting. A solid fuel burner uses less fuel than an open fire, and the cleaning is also easier, which is worth considering.
A fire basket will give you another traditional look, just right for roasting chestnuts in the winter, and for giving your home that open-fire ambience that everyone loves. Make sure your fire installation fits with current safety legislation by using an approved fitter. Opt for a suite that comes complete with hearth, surround and backplate, or mix and match for your own preference.