We are always looking for ways to redesign our living rooms, and some of us prefer a traditional way, but some others prefer a more current approach. One trendy style is the contemporary design. However, there is often confusion over modern designing and a contemporary design, but these are two different things.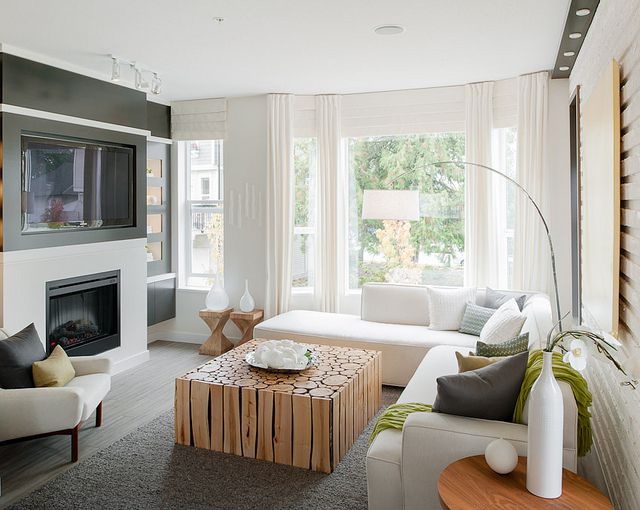 When people talk about contemporary design, they are referring to what is being popular and being used now in the present time. Unlike a modern design, it is not iconic and historical since it is very innovative and reflective from time to time. A contemporary design has a very distinct type of colours, materials and layout.
When it comes down to creating a contemporary design in your living room, it isn't hard to complete at all. All you need is a bright and airy and preferably an open-planned room and to introduce clean-line furnishings. Try to use organic materials such as wood, rock and other texture.
Below, you will find some ways to bring a contemporary feel into your living room.
Clean lines
A contemporary design is defined by clean lines and simple geometric shapes, meaning that an area can be bare or bold. It is important that you incorporate furniture and accessories which follow the clean and straight lines as well as incorporating solid and symmetrical shapes. This type of interior offers a very casual atmosphere which is perfect for relaxation.
Natural light
Big open windows, big doors and glass walls have been a trademark for contemporary designing. Using glass gives an amazing effect to a room, aside from the fact that it brings in more natural light; transparency is such a good contribution to the design.
Flooring
To achieve this type of design, you should think about what material you will be using on your floors. Floors in a contemporary home should be smooth using materials like nude tile, wood or vinyl. However, if you are looking for more textures, you should add rugs and carpets, but sometimes picking the perfect design can be critical. So remember to pick what is ideal for the flooring.
Colour
The colour of contemporary homes are usually neutral shades, most commonly whites and creams. If you prefer a bit of texture, bricks, stone and wood are ideal materials that give natural shades. If you opt for white walls, use darker coloured furnishings and fabrics. Balancing these colours can have a great effect on your interior, although this doesn't mean the colours should just be limited to natural colours, you can also combine bold and bright colours as well.
Fireplace
As your living room is often the place where you entertain guests and rest after a long day, by installing an electric fire, you can still keep the contemporary feel, but maintain the comfort and warmth of a fire. Be sure to look at our range of electric fires which will match home décor.
Unclutter
The key to achieving a contemporary look is to keep the clean lines by decluttering the space. If you do not want to part with any knickknacks, then try adding cabinets that can hold your important belongings. Maintaining this uncluttered and sleek design must be the main concern in your living room as it enhances the interior.
Creating a contemporary living room can be easy, but it is always important to remember that the beauty of your home is not based on how cheap or expensive your furnishings are, but its simplicity and uniqueness.
Image credit: Polygon Realty Limited under Creative Commons