Your gas fireplace is a thing of beauty when it's at its best. Contemporary gas fires are designed to be a stunning feature in your living space, not just a practical afterthought. The chances are that when it was new, you cleaned it frequently, but as the months and years go on it's easy to get behind with maintenance, and start taking your gas fireplace for granted as it blends in with your surroundings.
But there are all sorts of reasons why regular cleaning remains important over time. It's not just about the look of the thing. Cleaning your fireplace gives you a chance to check it over and ensure everything is working as it should. You can tune up the efficiency and ensure it's going to be doing its job when it's really needed. So, with the springtime arriving on the calendar, before you forget about it for the warm summer months, why not give some time to a gas fireplace spring clean. We'll show you how.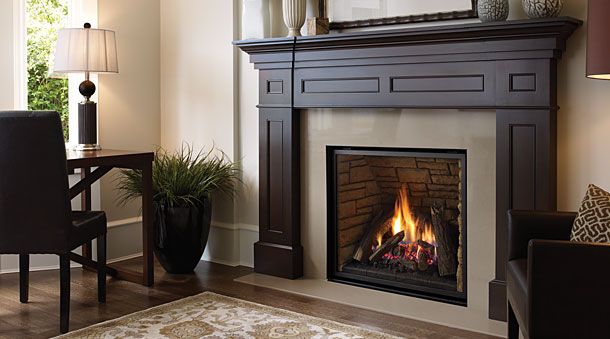 You'll need some basic equipment that you probably have lying around the house. If your vacuum cleaner has attachments that you've never used, now is probably a good time to experiment with those. Also, find a really soft paintbrush - make sure it's clean and preferably unused for painting. A soft cloth with also is useful here. In terms of cleaning agents, get yourself some wood stove glass cleaner, and also some ammonia-free household soap.
Start by making absolutely sure the gas is turned off. Check the valve and if you've used the fire in the last few hours, make sure every part of it has cooled off.
Then with the vacuum cleaner, remove the dust and cobwebs from around your fire, starting with the burner and any switches and dials. There'll probably be a greater concentration of dust and debris around any logs or rocks, and if you're concerned about sucking up vital loose pieces, attach some cheesecloth to the hose with an elastic band, to act as a filter and a barrier.
You might be better to take any removable logs into an outdoor space to brush them clean, but watch out because these are easily broken. Use this moment to inspect them closely for damage. Make a quick call to your heating engineer to arrange to replace anything you're unsure about, and get it mended before you light the fire again.
Then use the glass cleaner with the cloth to clean any soot away. Start with the exterior because the interior is likely to be much sootier. The soap will help remove any stubborn buildup, and you can use clean water to rinse away any residue. Polish the glass until it's dry to make sure you don't get left with streaks.
And there you have your cleaned and inspected gas fireplace. It's ready for the next cosy night in with a family film or after a Sunday afternoon walk in the woods. Schedule further cleaning sessions regularly so that it becomes part of your annual routine. That way your gas fireplace will continue to serve you for years to come.