December is fast approaching, meaning that we'll soon be getting out our Christmas decorations and bringing some much-needed festive atmosphere into our homes. With the fireplace often acting as the centrepiece of the living room, it's even more important at Christmas-time, providing you with warmth from the crackling fire to make your holidays feel even cosier. Jazz up your fireplace for the Christmas period with our decorative ideas, which are perfect whether you have a traditional log burning fireplace or prefer modern gas fires. Feel free to use just one or mix and match!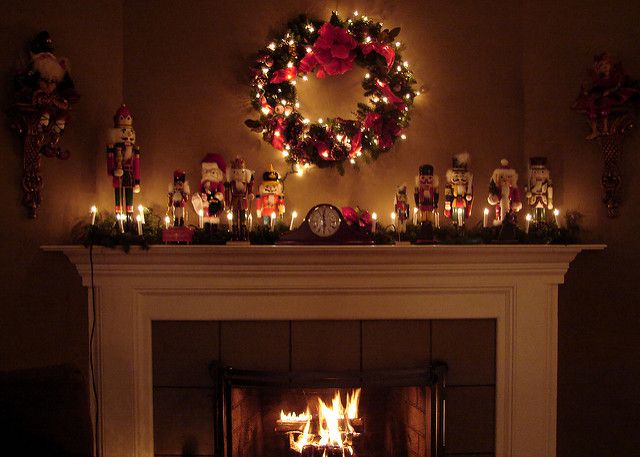 Greenery
Greenery makes for a great way to decorate your fireplace, bringing the nature of winter into your home. You can try to create a garland using fresh foliage, which can include evergreen foliage, holly and ivy, decorated with artificial berries which should mean your decoration looks good for the whole season. Finish off with a string of fairy lights so that they can also be appreciated by night. A garland of foliage paired with walnuts, pine cones and cinnamon sticks is also a great suggestion for the foot of a fireplace, and when you light the fire, the scents from those items will also fill your living room.
Paper decorations
Paper decorations are a cheap yet effective way to brighten up a fireplace. You can even try making your own – making paper chains, for instance, is a great activity you can enjoy with your children. If they can take the weight, you can also add other traditional Christmas decorations to your garland, such as baubles. Make sure you keep your paper decorations away from where the flames are – they will obviously be extremely flammable! However, you won't have to worry about flames with one of our LED fireplaces!
Candles
Candles have been a traditional Christmas decoration for centuries, and they add atmosphere to any setting. They work well with metallic elements especially, whether that be candlesticks, picture frames or even the fireplace itself. It's now also extremely easy to buy candles scented with wintery and festive scents, from winter berries to cinnamon.
Festive flowers
Complementing greenery perfectly, festive flowers add a touch of colour and work well with an artificial log fireplace. As well as the usual poinsettia, you can also try some forced winter bulbs such as hyacinths, scarlet amaryllis and scented paper white narcissus, which last well indoors.
Stockings
No Christmas is complete without a stocking waiting to be filled with presents! Stockings are available in all shapes, sizes and styles and are perfect for adding that final Christmassy touch to your fireplace and mantelpiece.
Image: popofatticus, available under Creative Commons