If you are a lover of home décor and want to get ahead of the trends, then you will certainly be interested to hear about Pantone's hottest predicted trends for 2018. Pantone is a colour authority that has a massive say in which colours and trends will be popping up in fashion, textiles, home décor and many other industries. Having named 'Greenery' their colour of the year for 2017, giving a sense of new life and new beginnings, they have already begun the planning for next year's top trends.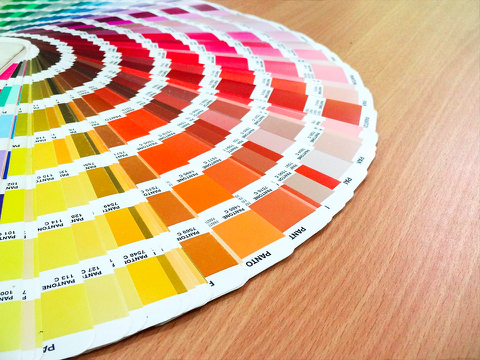 Geometric patterns
Geometric patterns have come and gone in home décor trends over the last few decades, proving an ever-popular choice that we go back to time and time again. This is an easy trend to incorporate into your home, particularly through the use of accessories and small furnishings. Whether you want to go bold with striking wallpaper choices or to simplify the trend with smart accents, this is a versatile choice that can be utilised in any room.
Typography
The trend of typography just keeps getting better and better, with everything from bold statement phrases to simple words in delicate handwriting and everything in between. This offers a real essence of personality and can be found in frames, on cushions, printed on wallpaper and even in wall tiling in the year ahead! Frame your wall-mounted electric fires with these cute accessories to create a focal point that really shows a truly personal touch to a room.
Wood finishes
Although the modern world just keeps on getting more technological, some of us are turning back to nature within the home to incorporate more outdoor elements. From antique pieces of furniture to soft wood furnishings, bringing the outdoors in is certainly 'in' fashion both in 2017 and in 2018. This is combined with a minimalistic approach, going back to basics with interiors and sticking with a 'less is more approach'.
Fringe
Fringe has started to work its way into the fashion industry on everything imaginable and is soon to find its place in our homes as well as our wardrobes. From fringed blankets to footstalls, the textured patterns are predicted to be a big trend for 2018.
Metallics
The trends of metallic colours such as rose gold and copper are being pushed to the side for a more all-out metallic alternative. Tones ranging from metallic pinks to slate greys are to be seen featured in all the trendiest homes, paired with the naturalistic trends and soft furnishings to offset the hard metal look to create a sense of attitude in the home.
Iridescent accents
All things pearly and pretty are to be a big trend in 2018, with tiles, light fittings and other accessories being utilised to bring a sense of magic into the home. This makes rooms look bigger with their reflective powers and more magical, with a vibe that frees the imagination. The trend is thought to have evolved from 2016/17's love of unicorns, taking inspiration from their pearly horns and turning it into a more versatile trend.
Intense colours
Bold colours are said to soon take over from the pastel craze that we've all been loving recently. From vibrant pinks and greens to deep purples and blues the bolder, the better! This comes hand in hand with the minimalism trend, making a statement in colour rather than in the amount of accessories. Coming from the colour experts, we're sure that this is a trend that we can get on board with!
What are your predictions for the colour of the year in 2018?